How to create quality content that pushes articles to the top of Google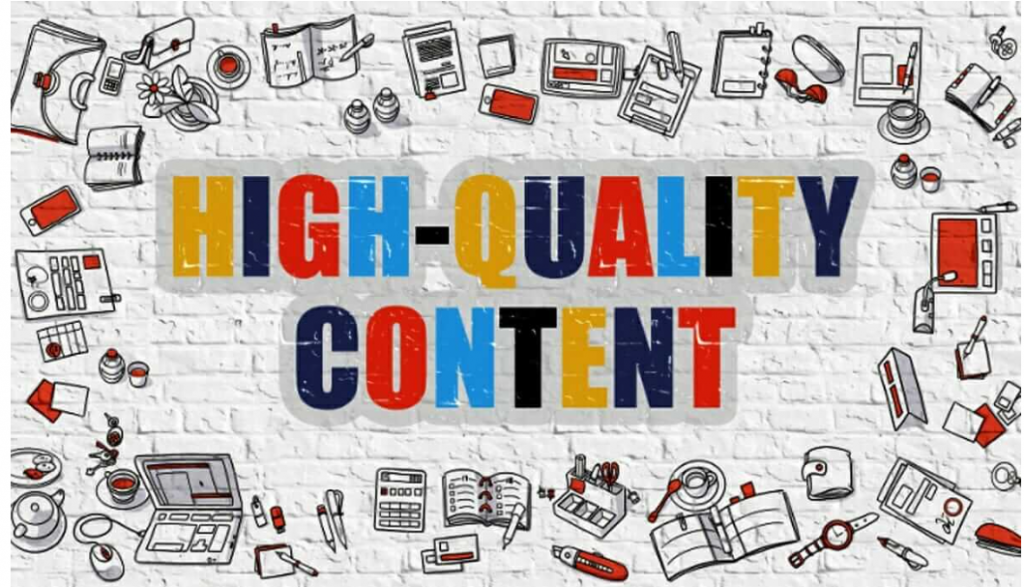 Some Marketers have the wrong view that: "Perfect content doesn't need SEO". They think SEO is for search engines and content is for readers. However, that view is completely wrong now. Content & SEO cannot be separated but intertwined.
You can completely create unique content that is easy to understand by humans. Simultaneously, it is to optimize the article so that the seo standard content easily gets to the top. Check out the article below to create quality content to the top of Google!
Types of content
Blog
Blogging is also a way to earn money by sharing the things you love (travel blogs, marketing, etc.). If you have in-depth knowledge of the field that you share, you can completely become a famous Influencer in the industry. However, at any stage from starting a blog, you always want your information to reach as many readers as possible. Therefore, you need to research on how to write standard seo content to increase the efficiency of your work.
Advice:
Stand out with unique content.
Do your own research and use your own data.
Focusing on quality over quantity, the article needs to be meticulous and precise.
Ensure consistency to build a strong personal brand.
Partner with companies and influencers.
Here are the most popular types of published content within 12 months from GrowthBadger research (based on GrowthBadger survey):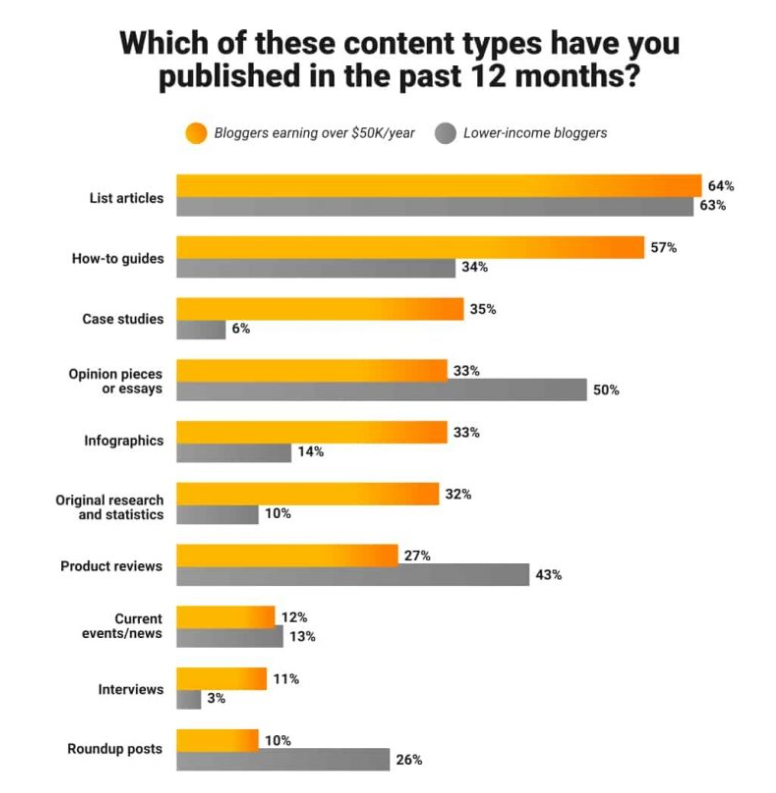 Product page
Online brands should prioritize investing in content for product pages. They are often used as landing pages for PPC campaigns, including Google Ads Remarketing or paid social media advertising.
Advice:
On eCommerce pages, a product must have a clear description, price, and call-to-action to induce customers to buy that product (CTA).
Product images are clear, professional, and headlines must be compelling.
Website speed and user experience greatly determine the purchase.
Reviews
Everything can be reviewed, you can write reviews about tools, movies, bars, restaurants, electronics, whatever you like.
By becoming a trusted influencer, you help people make the right decisions and profit from sponsored reviews. Reviews are an essential component of influencer marketing.
Advice:
Choose a specific topic or field.
Don't review a poor quality product just because the company pays it well.
Create your own standards when evaluating.
Be consistent in your opinion.
Research paper
Please share the data you collected during your research. Provide long-term valuable information such as: Reveal your customer satisfaction strategy or why you failed when launching a new product. In addition, you can also do tests to fact-check various "rumors" in your industry. Perhaps the most attractive thing about reviews is that they are always unique and provide fresh information to the reader.
Advice:
Prepare enough original data and be honest in the research.
If you're researching your business, consult with the company's heads of state first.
Don't be afraid to write about failure, people won't be interested in familiar success stories.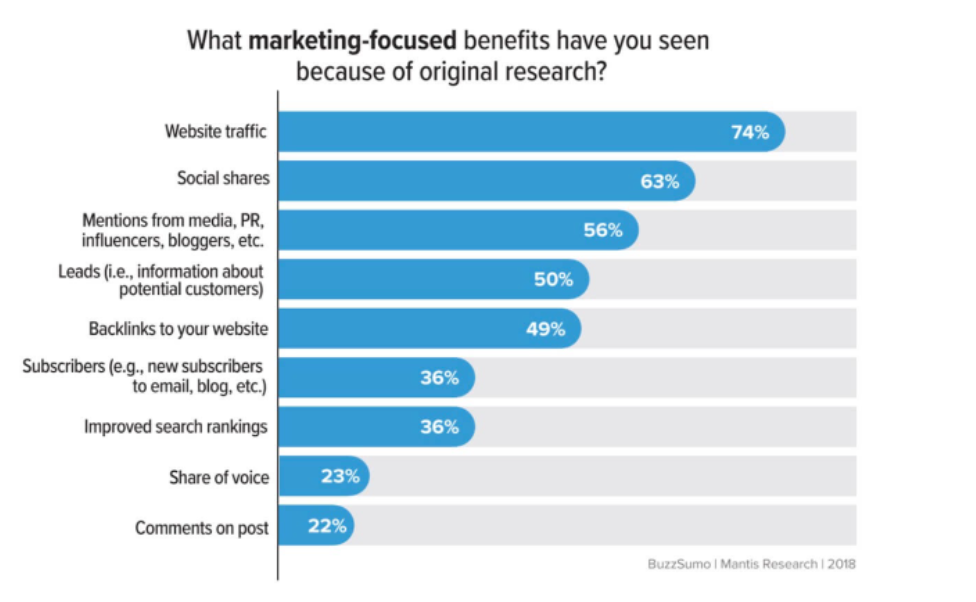 Infographics
This is the most popular format today. However, users often use them as a replacement for text. Infographic creation is about making information attractive and easy to read, not complicated images containing too much text.
Advice:
Infographic makes knowledge easier to understand and more convenient in exchanging knowledge with each other. So make sure to design them both beautiful and informative.
Use only the most important data.
Create a story, add charts or images.
Search engines cannot read images. Therefore, when posting infographics, you should write more descriptions so that search engines can understand what your images represent.
Use keywords that attract readers
The "tutorials on…" and "How to…" are hot keywords for you to exploit. You can write a tutorial or a how-to. However, there have been thousands of articles with such motifs. So, do not copy other people's articles, convey special content, creative ideas, different from your competitors.
Interview
Get good information and opinions from an industry expert to make an interview in the form of an article, video, or podcast during the interview. It helps to build credibility, generate more traffic, shares on social networking sites and backlinks.
If the interviewee is famous and has a certain following and they agree to share the interview on your page, the number of visitors to your website from there can increase.
Advice:
Try interviewing a famous person in the industry
Prepare the script for the interview
Questions, how to interview naturally
Video
Did you know, an effective video can bring up to 80% of conversions. Videos can attract customers to interact, share, increase likes and help you get more backlinks. From there, generate more leads and more conversions for your business.
Advice:
Write the script, re-read and rehearse the script.
Prepare a budget for video production: actors, video editing software, hire video editing personnel, etc.
Add subtitles to the video.
Make a marketing plan or at least plan basic promotional activities to save your time and money.
Of course, you don't always need to produce videos yourself. You can reshare or add a video of an industry expert to your post to make it more engaging. Videos can enrich your content and make readers stay on your website longer.
Ebook
Ebooks are often used to attract potential customers. Ebooks are usually in PDF format, containing a long and quality content section. Maybe more B2B-oriented, but there are still many B2C websites that require an email address to download ebooks. This method helps you get emails of customers who are interested in your business's products.
Advice:
Write an ebook the way you would a normal paper book: you need an eye-catching theme, title, body text, impactful author, effects, and eye-catching design.
Encourage users to download: because inside there is special content that cannot be found on competitors' websites.
Length of blog post
In the past, long articles stuffed with keywords easily climbed to the top positions on the SERPs. This type of blogging reaches the saturation stage when hundreds of almost identical articles with the same keywords.
If you write an article, you need to grab the reader's attention. From the title, description, content type, the use of <title>, <h1, h2, h3,…> tags and other HTML tags to the overall content structure must be reasonable.
According to Medium, blog posts with a reading time of 7 minutes are ideal. There is a lot of research on this topic but most of them prove that longer posts rank slightly better.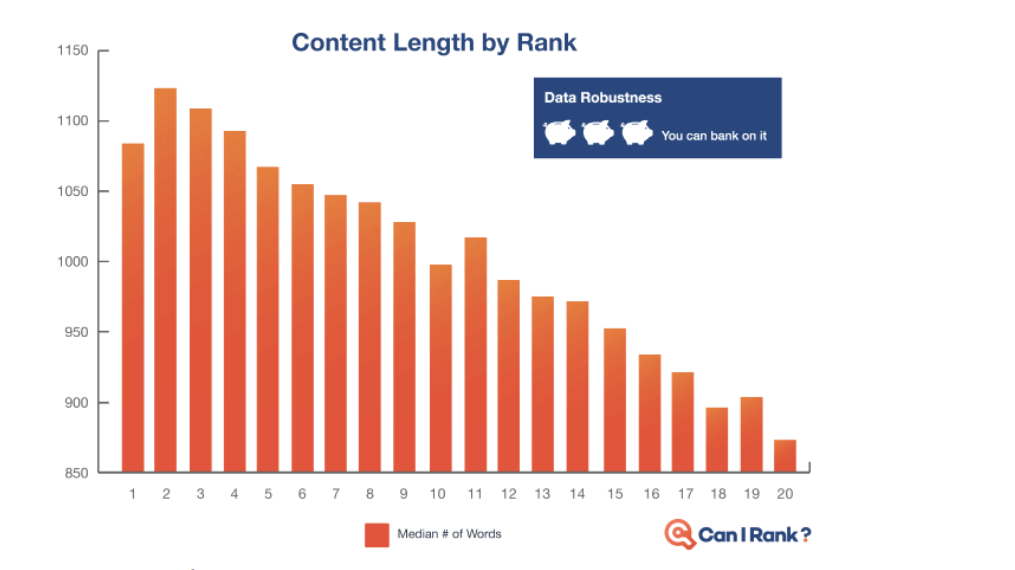 Handling duplicate content
In the process of creating content, you will encounter a situation where you repeat a content previously mentioned on the website. If there is too much duplicate content on your website, you can use 301 redirects or rel="canonical". You can learn more on the Google Search Console support pages.
However, it is not mandatory that there are no duplicates on your website. Google's algorithm can tell if you did it on purpose or by accident.
However, if the article is too duplicated, Google removes the website from the search results. A popular tool for detecting plagiarism is Copyscape. All you need to do is enter the URL of the post.
Good content needs to be carefully researched and elaborated by the writer. You can filter out a few topics, research keywords, ask friends, create polls on Facebook or anywhere else.
When you choose a theme, go through the market and analyze all the top ranking websites. Don't copy that content, try to create your own unique content, do optimization and finally promote it to everyone.
Conclude Imagine: What if you have a quality article with unique ideas but not SEO optimized, no backlinks? Or vice versa, a website has standard seo content, but the content does not attract readers. Neither of the above two cases will bring you good results. Therefore, as a content producer, it is necessary to know SEO to be able to create the perfect combination, bringing good content to readers.
Please contact to us to expand your product in pneumatic , Hydraulic , Bearing , Automation , Linear motion , Electric controll in vietnam market. We will help to get more customer more inquiry and contact information for your product.
Email: tanhaiautomation@gmail.com Phone and zalo: Mr Trung: 0397536266